---
Today's News: SoCal ports struggle with the backlog, TPG goes public, and Coinbase buys FairX to launch crypto derivatives…
What's Trending…
On ROIC: Inflation
On Twitter: Sea Ltd (SE)
On Reddit: AMC Entertainment (AMC)
---
Subscribe to Morning Cents: For news and analysis covering macro, crypto, and business topics sign-up for our FREE daily newsletter Morning Cents!
---
Markets & Macro
| | | |
| --- | --- | --- |
| S&P 500 | 4,737 | + 0.22% |
| Nasdaq | 15,234 | + 0.30% |
| U.S. 10-Year | 1.734% | |
| FTSE 100 | 7,559 | + 0.10% |
| Stoxx 600 | 487 | + 0.14% |
| Nikkei | 28,489 | – 0.96% |
| Hang Seng | 24,430 | + 0.11% |
| Shanghai | 3,555 | – 1.17% |
---
SoCal Ports Struggle to Trim Cargo Backlog as Omicron Surges
In the past 30 days, we have seen a number of industries impacted by labor shortages due to the Omicron variant. Approximately 10% of the daily workforce at the ports of LA and Long Beach were unavailable due to the strain on Monday.
Over 100 container ships are waiting to unload at the port complex according to Marine Exchange of Southern California. The backlog of ships has hovered ~100 since late November.
JO: As long as we face these supply chain bottlenecks and labor shortages, we will have limitations on the supply of goods, which contributes to inflation.
---
Fed Beige Book: Economy Grew at Modest Pace to Close 2021
The U.S. economy grew at a modest pace at the end of 2021 according to the Federal Reserve. Demand remained strong and consumer spending grew as supply chain issues and a shortage of workers held back production (what's new?).
---
Economy Week Ahead
Monday: No Notable Events
Tuesday: Jerome Powell Nomination Hearing
Wednesday: CPI Print (MoM / YoY expectations, 0.4% / 7.1%)
Thursday: PPI Print
Friday: Retail Sales
---
Crypto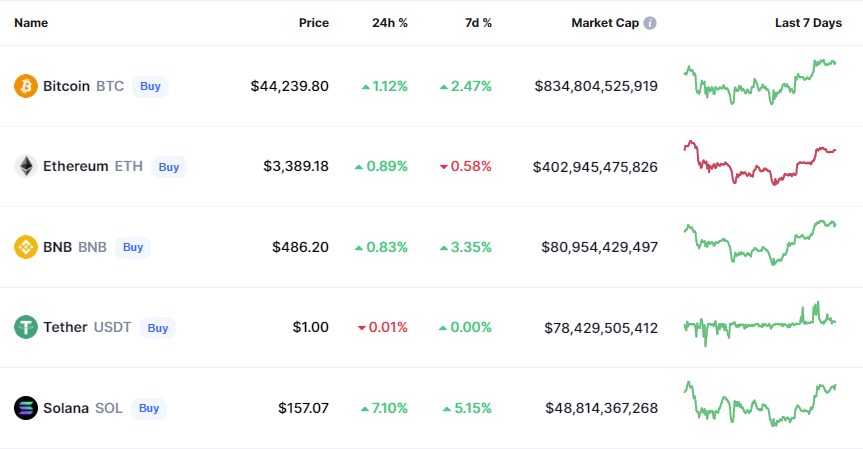 ---
TransUnion Brings Credit Data Checks to Crypto Lending
TransUnion (TRU), one of the three major U.S. consumer credit reporting firms, will let consumers give blockchain companies access to their personal credit data.
The company said consumers will be able to receive better interest rates when borrowing money from financial-services companies that operate on public blockchains like Ethereum.
---
Visa Partners With ConsenSys to Help Bridge CBDCs With TradFi
Visa (V) has partnered with Ethereum scaling firm ConsenSys to help central bank digital currency networks bridge the gap with traditional financial institutions.
Catherine Gu, Visa's head of CBDC, said customers will eventually be able to use their CBDC-linked Visa card or digital wallet anywhere Visa is accepted.
---
Notable Earnings
Monday: Tilray
Tuesday:
Albertson's
Wednesday: Jefferies, KB Home
Thursday: Delta Air Lines, TSMC
Friday: JPMorgan Chase, Citi, Wells Fargo, BlackRock
---
Business News
TPG Prices IPO at $29.50 a Share
Private equity firm, TPG Inc. raised $1 billion in the first big U.S. IPO this year. The raise was at the midpoint of the expected range.
At $29.50 per share, TPG has a market value of $9 billion. It will begin trading today on the Nasdaq under the symbol TPG.
JO: Another storied PE fund that individual investors can be owners in. We already own one of these on our ROIC-C (Compounder) Board. TPG has put up over 20% IRRs over the last 10 years and at a $9B valuation is trading for 17x After-Tax Distributable Earnings, which is a discount to peers that are trading at a 19x or higher. This could be interesting if you believe in the TPG brand more than Blackstone or KKR or others.
---
Coinbase Buys FairX to Launch Crypto Derivatives
Coinbase (COIN) is buying FairX for an undisclosed amount according to a company blog post.
Coinbase will initially offer derivatives trading through the existing FairX infrastructure but plans to eventually leverage the infrastructure to offer crypto derivatives to all Coinbase customers in the U.S.
KR: Expanding into derivatives trading is another opportunity for Coinbase to diversify its revenue. This deal helps COIN keep pace with FTX which announced the purchase of futures and options platform LedgerX in August.
---
HR Software Platform Justworks Puts its U.S. Listing On Hold
The venture-backed software firm Justworks announced that it will delay its IPO "due to market conditions at this time." This delay comes as public debuts for technology companies and technology companies, in general, have experienced selloffs in equities markets.
---
Cents Invest Featured
ROIC Dive | A Long-Term Winner in Managed Healthcare?
On Monday's live stream, Justin took another quick look at Traeger as the stock price has A ROIC member showed interest in looking at Centene Corp (CNC), a managed healthcare company. Justin's initial take on valuation and the managed healthcare trend was positive. Today, we take a closer look.
---
The Truth About The Inflation Crisis. (Not What You Think)
Inflation is 7% year over year! That means your money is being devalued Let's talk about what is inflation, what's causing this inflation, and the actual root causes of the inflation.